At Net Works Company Limited, we understand that ensuring safety for people and cargo is a top priority in the transportation industry. Therefore, we are committed to delivering high-quality parachute netting for container protection, guaranteeing absolute safety for both individuals and goods. Our products have gained trust from numerous domestic and international transportation companies.
What is a container safety net?
In the current booming freight industry, transportation companies are required to be competitive in terms of both pricing and service quality. Recognizing this demand, many manufacturers and fabricators have introduced a product line called container safety nets. So, what exactly are container safety nets?
Container safety nets are products used to secure the doors of shipping containers. They are designed to keep cargo in a stable position and prevent it from experiencing impacts, falls, or spills during transportation. Additionally, they ensure the safety of cargo handlers when opening container doors.
Safety nets for container doors are typically made from synthetic materials such as synthetic fibers, polyester, or HDPE, known for their high durability and good load-bearing capacity. However, the most common type of container safety net is made from synthetic fiber due to its high quality, affordability, ease of use, and transportability.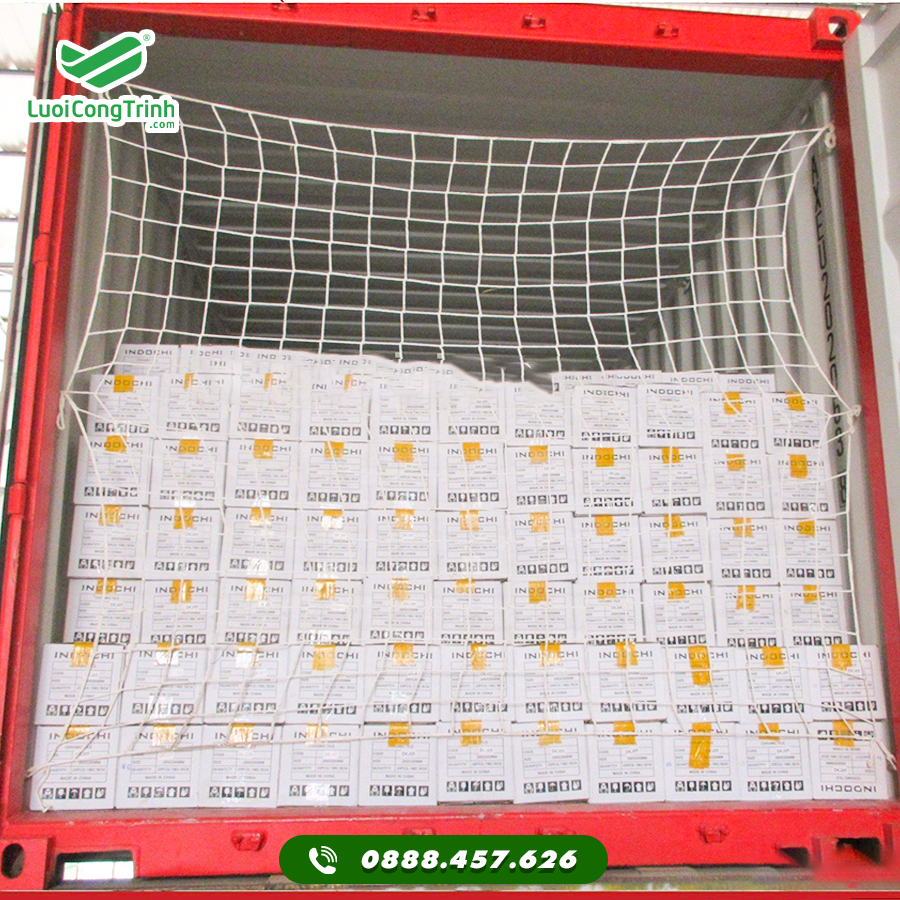 Technical specifications of container safety nets
Container safety nets are directly manufactured and processed by Net Works Company Limited on advanced production lines from South Korea. The nets boast high quality at reasonable prices and have been trusted by thousands of domestic and international transportation companies for over 13 years.
TECHNICAL SPECIFICATIONS:
- Material: Synthetic fiber
- Mesh width: Manufacturing & Processing on request (depending on order quantity)
- Mesh size: 7-8cm, 8-10cm, 10-12cm
- Mesh thread diameter: ~4mm, ~6mm
- Unit: square meter (m2)
- Density tolerance: ± 5%
- Color: White
- Origin: Vietnam
- Manufacturer: Net Works Company Limited (Net Works Co., Ltd)
- Weather resistance: Over 3 years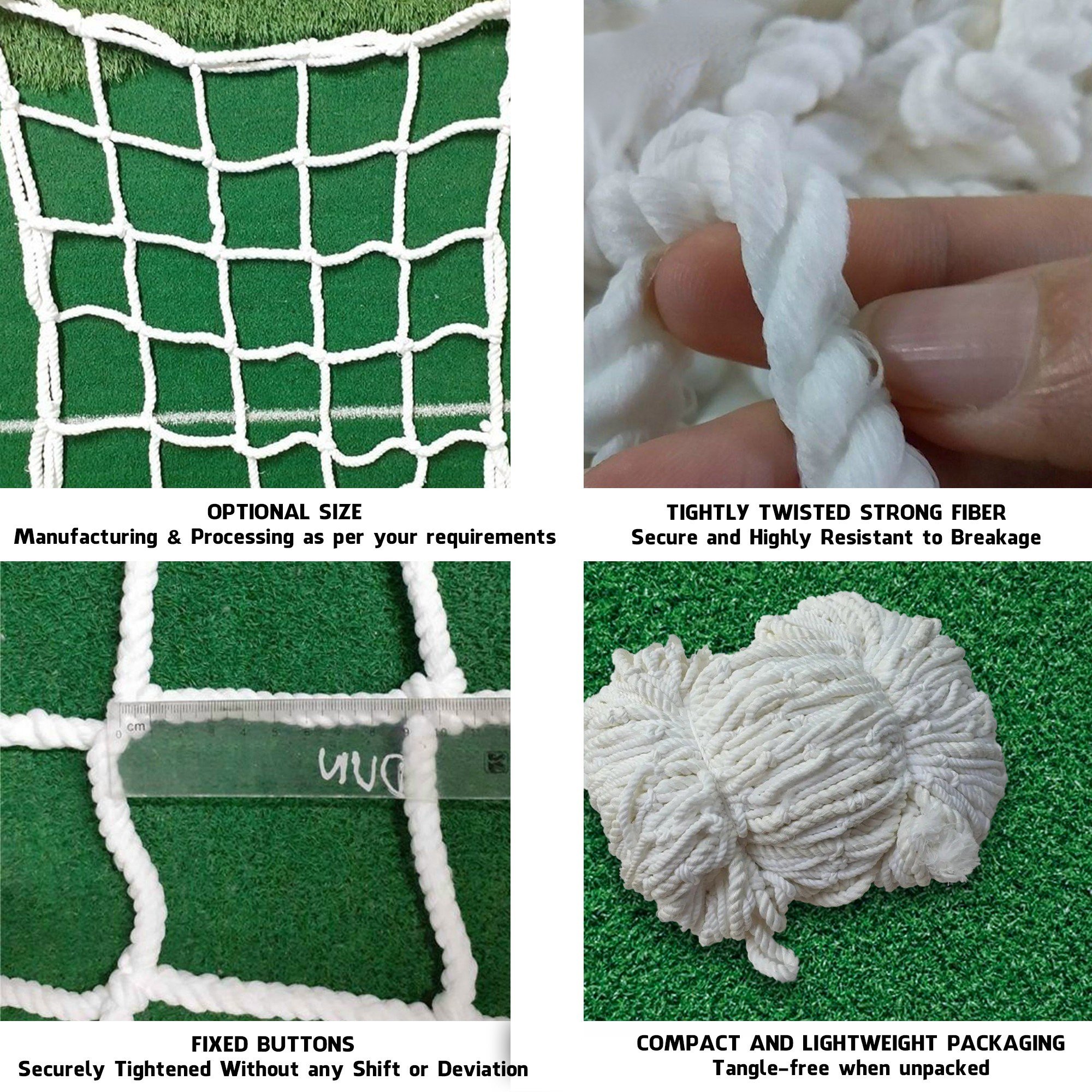 What makes the container safety nets produced by Construction Net special?
1. Superior quality
Our Container Nets are manufactured from high quality synthetic parachute fibers, ensuring durability, good bearing capacity and long service life. Parachute yarns are tightly knit together and knots are tightened, creating a strong mesh that will not tear or unbutton when used.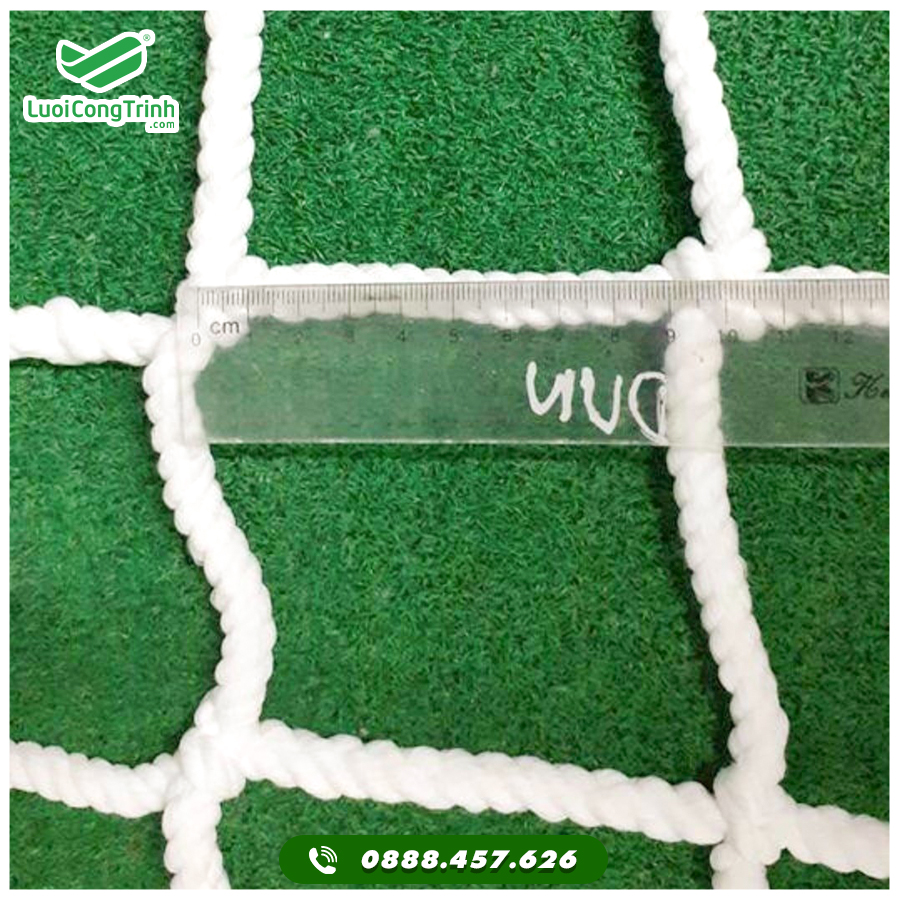 2. Flexible Design
We produce container safety nets according to our customers' requirements regarding dimensions (mesh width and opening size). This ensures that we can meet the diverse needs of transportation companies both domestically and internationally.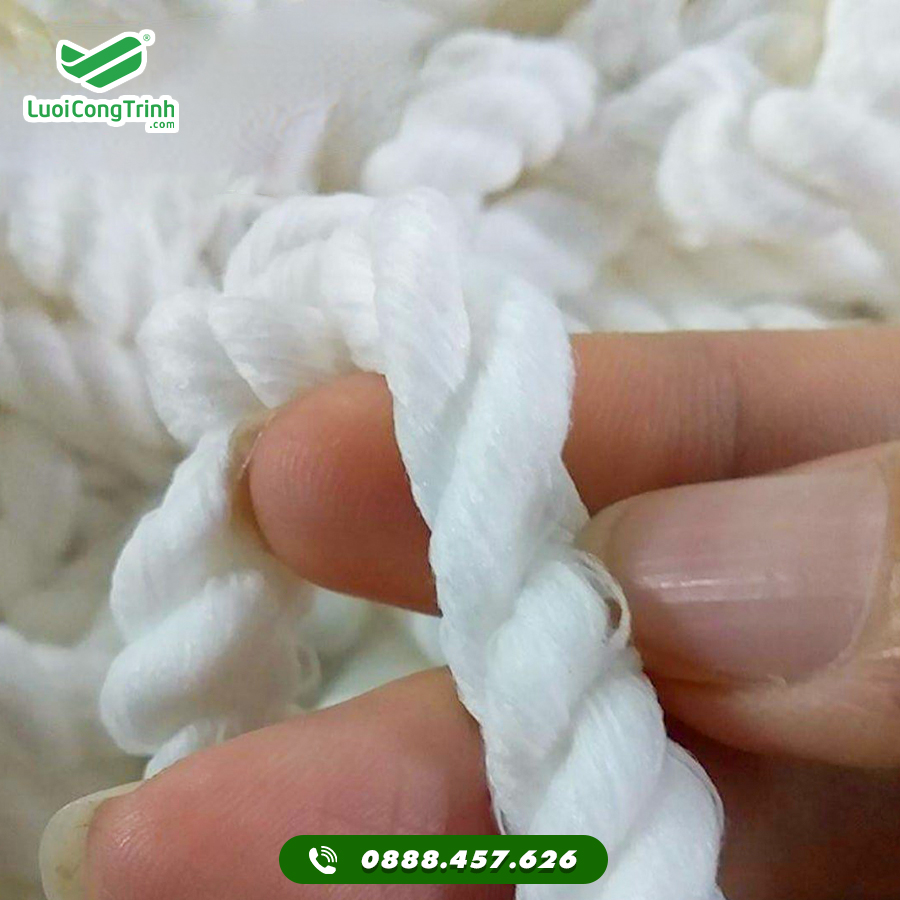 3. High Load-Bearing Capacity
With a diameter of robust mesh fibers ranging from 4mm to 6mm, our container safety nets provide high strength and stability. They have a large load-bearing capacity, keeping the cargo securely in place, preventing impacts, falls, and slips, thus ensuring maximum protection during transportation.
4. Factory Direct Pricing
As mentioned above, our container safety nets are produced and processed directly at the Net Works Company Limited Factory without any intermediaries. Therefore, we guarantee that customers can purchase the Container door parachute net at factory-direct prices.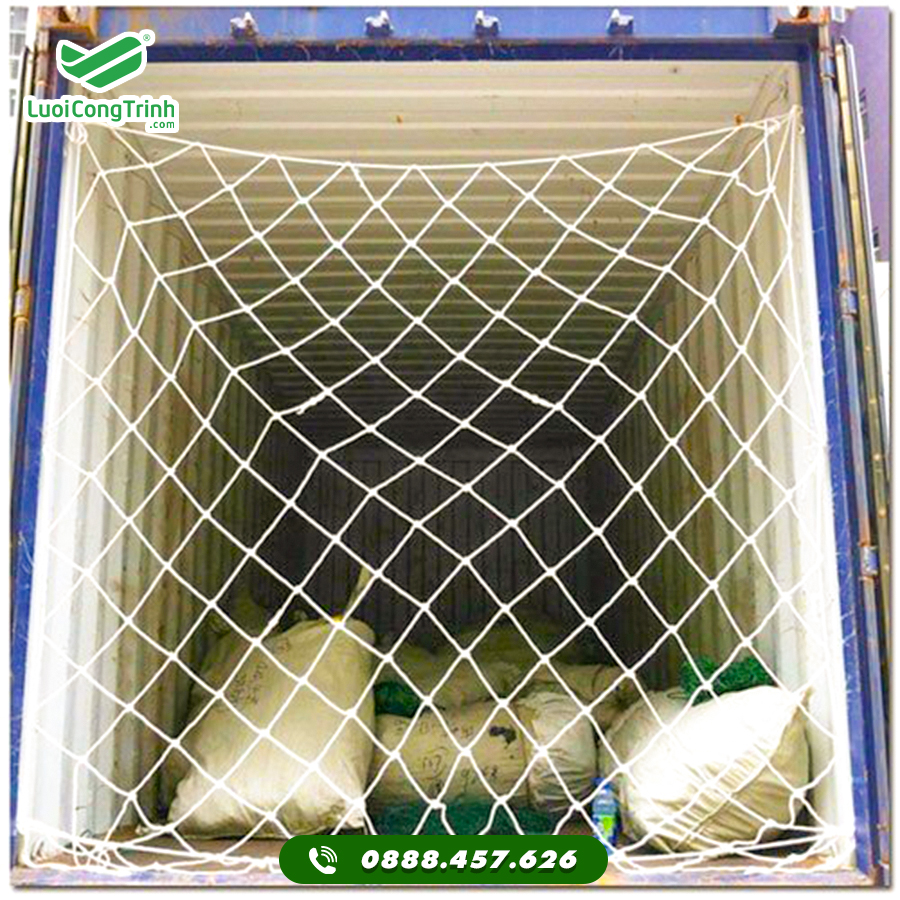 Why should you use Container nets?
1. Ensure Safe Cargo Protection
Container safety nets keep the cargo in a stable position during transportation, preventing impacts, falls, and sliding. This helps protect the goods from damage, loss, and potential hazards.
2. Minimize the Risk of Workplace Accidents
Container door parachute nets ensure the safety of workers involved in loading and unloading cargo when opening container doors. This product helps reduce the risk of injuries caused by falling cargo from the container, especially for heavy items.
3. Cost Savings for Transportation Companies
Container safety nets helps minimize risks and damages to the cargo during transportation, thus reducing the need for compensation costs due to damaged goods in transit.
4. Easy to install and quick to remove
With flexible design and suitable dimensions, the net can be easily attached to the container's sides and conveniently removed. This allows staff to quickly complete the installation process before shipping and easily remove it after unloading. This increases efficiency and reduces waiting time.
5. Project a Professional Image for Transportation Businesses
By choosing our Container safety nets, you are projecting a professional image for your transportation business. Customers will see that you prioritize the protection of their goods and ensure safe transportation. This not only helps build and strengthen customer trust but also creates a positive impression and opens up new business opportunities in the transportation industry.
Learn more about the manufacturer Net Works Company Limited
With over 13 years of experience in the industry, Net Works Company Limited has established a strong reputation and become a trusted partner of many domestic and international transportation companies.
We constantly keep up with the latest trends and technologies to enhance the performance and quality of our products. At the same time, we apply rigorous quality control processes to ensure that each Container Mesh Fence meets the highest standards before reaching the hands of our customers.
Net Works Company Limited is committed to providing high-quality Container safety nets that meet the exact requirements and expectations of our customers. Customer satisfaction is the driving force behind our continuous development and improvement of our services.
We are always ready to collaborate and provide the best solutions to our customers both domestically and internationally.
Net Works Company Limited (Net Works Co., Ltd)
- Headquarters: 90 Street No. 8, Ward 11, Go Vap District, Ho Chi Minh City
- Branch: No. 80, An Tho 1 street,  Nam An Khanh Urban Area, Hoai Duc District, Hanoi City
- Factory: 58/6D Nhi Binh 4 Street, Hamlet 1, Nhi Binh Commune, Hoc Mon District, Ho Chi Minh City
- Hotline: 0888.457.626 - 0909.074.649
- Fanpage: https://www.facebook.com/congtyTNHHLuoiCongTrinh/
- Email: marketing@luoicongtrinh.com